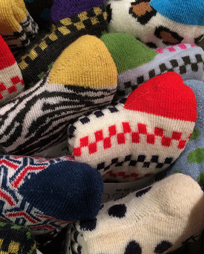 Woolly, woollier or woolliest

Mocklis wool terry socks are made in Sweden.
The model is soft, warm and feels light and comfortable against the skin. Lovely to use in winter boots, sneakers, clogs or if you just having cold feet hanging out on the couch.

The little longer function sock is flat knit in the shaft and have a terry knit foot. Air ducts on top of the foot wicks away moisture and retains heat. The sock is perfect in ski boots or wellies. Wear them when skiing, skating or hiking or outside of the jeans for a great look.

Wool has amazing properties. It is a natural material that always insulate against the cold. It warms even if it is wet. Always wear wool next to the skin, so it heats the best!